Are you considering a purchase of a heavy duty electric power wheelchair? Some may find it difficult shopping through such a large selection of brands and models but when it comes to heavy duty battery powered wheelchairs there are some key factors you will want to make sure of or at least find close similarity too when shopping from our website for the best heavy duty power wheelchairs.
Most people unfamiliar with heavy duty power wheelchairs may not be sure of where to start, so let's make sure a heavy duty model is what you need. Now, if you're planning on using this power chair outdoors on rough terrain, or you weigh let's say over 350 lbs a heavy duty model is more preferred for you.
Heavy Duty power wheelchairs generally have a weight capacity between 350 and 500 lbs, there are even some models capable of holding more weight. Usually heavy duty models will also be equipped with large durable wheels. For the most part tires will be solid or flat free, the only time you will see a pneumatic style is for better traction or indoor purposes, however some people do prefer those rubber tires.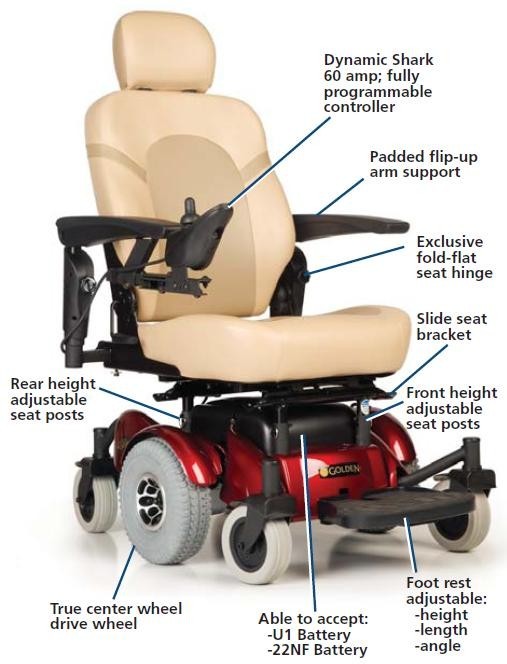 Another factor to help determine a heavy duty power chair is the travel range, normally you will see heavy duty style handicap power chairs lasting at least 15 or 20 miles between full charges, and they will usually run on rear or mid-wheel drive providing plenty torque and performance. Now with heavy duty models, you will see that your power chairs body frame will be a little larger than an average handicap power chair, so your best bet is to find a durable mid-wheel drive model.
Reason being, mid-wheel drive allows power chairs to turn at a much sharper and quicker rate allowing such large body frames to get around hallways or doorways with ease compared to front wheel or rear wheel models. Another great factor you will find with only some power wheelchairs is a power elevated seat. This upgrade is only available with certain heavy duty electric power chairs and it will make it a lot easier to get to those hard to reach place for users who have a hard time standing.
With the facts presented above you will be able to sort through many models to help you determine what is considered a heavy duty model and what is not.
Merits Health P327 Vision Super Power Wheelchair
FOLD & GO WHEELCHAIRS® - Heavy-Duty Electric Wheelchair
Highlights of the Heavy-duty model of FOLD & GO WHEELCHAIRS Visit our website: https://foldandgowheelchairs.com Email: support@foldandgowheelchairs.com Call: 512-817-FOLD.
5 new from $3,559.00

Last update was in: February 18, 2018 11:19 am
Super high power in-line motors help obese riders negotiate 10° uphill ramps easily
Price includes powerful NF22 batteries. These deep-cell batteries offer exceptional power and range
The Vision Super Bariatric Wheelchair has a 450-lbs weight capacity.
The P327 Vision Super Power Wheelchair by Merits Health is one of the top choices available on the market if you're looldng for one of the best reliable heavy duty power chairs. Holding as much as 450 lbs The P327 Vision Super power chair runs on 12" pneumatic mid drive wheels and provides plenty of performance in most mgged outdoor terrains and even turning through tight spaces indoors providing a turn radius of 20.7" which is incredible for a power chair of this size. Providing plenty of performance and torque: The P327 Vision Super Electric Wheelchair can last as long as 20 miles when fully charged and ride up to 5 mph and was designed with a dual in-line motor and full suspension so you will be able to ride up most inclines or hills with much ease compared to most power chairs= however you do not want to put more pressure on your power chairs motor than it already has so do not constantly ride up hill.
Compass HD Power Wheelchair
The Compass HD by Golden Technologies is another heavy duty power chair that is packed with power and reliability. Designed with options for 20"= 22"= and 24" wide seats capable of holding up to 450 lbs= The Compass HD electric wheelchair built by Golden Technologies is one of the best heavy duty power wheelchairs available online. Powered by 12V 22NF batteries this heavy duty electric wheelchair goes up to 4 mph while lasting as long as 12 miles The Compass HD runs on mid-wheel drive and uses 10" flat free tires to ensure a smooth ride on practically all terrains. Because of its mid-wheel drive= The Compass HD is capable of maldng very sharp turns at a radius of 20"= which in turn helps make this power chair great for getting around obstacles and also through tight spaces.